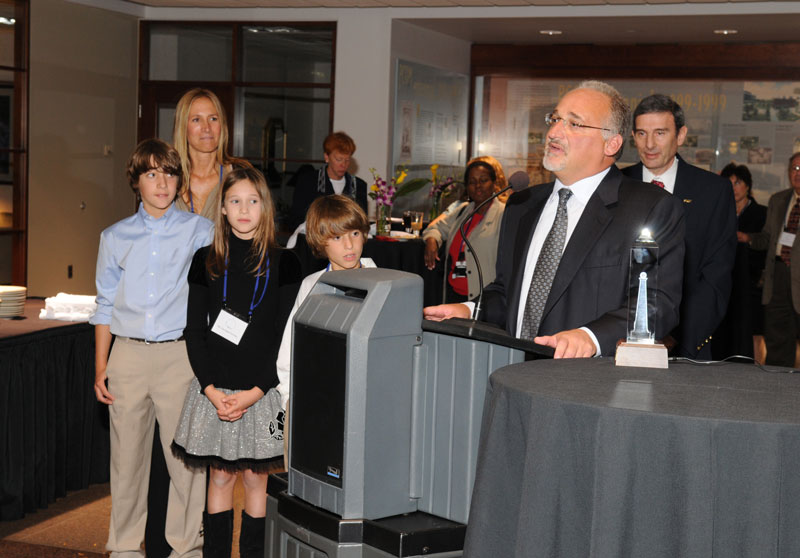 The Gravina Family Foundation was created as an avenue to give back to the communities where we live and work. The Foundation's primary goal is to use the power of philanthropy and service to change the lives of people and improve local, national and international communities. The Foundation seeks to develop meaningful partnerships with organizations that provide basic human services such as food and shelter, youth development, education, wellness, community building and engagement.
Leadership
The Gravina Foundation believes
giving begins at home.
Thomas Gravina
Thomas J. Gravina was elected Chairman of Philadelphia College of Osteopathic Medicine's (PCOM) Board of
Trustees on November 10, 2021. He has served as Vice Chairman since 2015 and has been a Trustee since 2003.
Gravina will remain as Chairman of the PCOM Foundation Committee and will continue serving on the Finance,
Audit, Executive and Compensation Committees.
From 1987-2000, Gravina served as president and CEO of ATX Communications, which he built into one of the
largest privately held telecommunications companies in the U.S. In 2000, he led the multibillion-dollar merger
between ATX and publicly traded CoreComm and Voyager.net, continuing as President and CEO of the combined
venture until 2005, when he transitioned to Chairman of the Board until the company was sold to Broadview
Communications in 2006.
Gravina is currently Executive Chairman of Evolve IP, a company he co-founded in 2006. Evolve IP is a cloud
technology company, serving commercial clients in the U.S. and various other countries around the world. Evolve
IP has been named as one of America's 50 Best Places to Work (Inc. Magazine), Best Entrepreneurial Companies
(Entrepreneur Magazine) and Fastest-Growing Technology Companies (Deloitte Fast 500). In his current role,
Gravina oversees Evolve IP's global M&A strategy and philanthropic efforts. He also is Executive Chairman of GPX
Enterprises, a private investment company he co-founded in 2007, with interests in real estate, manufacturing,
software, consumer health, cloud technology and financial services.
From 2009-2018, Gravina was a member of the Board of Directors of FS Investment Corporation, a NYSE-listed
business development company. He has also served on the Board of Directors of FS Energy and Power Fund,
chairing the nominating and corporate governance committee, as well as the FS Global Credit Opportunities Fund.
The Philadelphia Business Journal/Wharton Business School named Gravina to the CEO Hall of Fame and he has
previously been recognized as a 30 Under 30 and a 40 Under 40 honoree. He has also been inducted into The
Philadelphia Hall of Fame for Junior Achievement.
Gravina supports several charitable organizations through the Thomas and Tracey Gravina Family Foundation,
which develops partnerships with organizations that provide basic human services like food and shelter, youth
development, education, wellness, community building and encouragement. He and members of his various
businesses have helped raise more than $12 million for 45 charities across the United States. He also currently
serves on the boards of a number of charitable organizations, including the Herb it Forward Foundation and the
Center City District Foundation.
Gravina earned a bachelor of science degree in business administration from Villanova University in 1984, and is
an active alumnus serving on the President's Leadership Committee as well as a member of the 1842 Heritage
Society. He is also a 2018 recipient of the Villanova University Joe Walters Special Recognition Award.
Gravina currently resides in Haverford, PA, with his wife Tracey and their three children.
Tracey Gravina
Tracey was raised in Wynnewood, PA, attended Villanova University and graduated with a degree in education and a minor in sociology. Tracey has been married to her husband Thomas for almost 27 years and they have three children, Giovanna, Parker and Thomas Jr, and two labrador retrievers named Bella and Macy.
Tracey, together with Thomas, have raised their children to be socially conscious young adults, while instilling in them a philanthropic spirit. Each child has embarked on their own personal humanitarian journey on their college campuses, and will have active roles in the family foundation's mission going forward.
With a background in teaching and art, Tracey has spent more than a decade teaching children in The School District of Philadelphia and enhancing the lives of youth through education, the promotion of emotional and social development initiatives, and art. Her efforts and dedication include one of the most beneficial investments children can make in themselves, empowering and helping them build confidence and grow through their own personal barriers. Her support of children and families in homeless and low income situations is also evident in her years of volunteering and commitment to the Cradles to Crayons organization, Arts Chair of the annual FSH community fair and other humanitarian causes.
Thomas Gravina Jr.
Villanova University Class of 2020
Villanova School of Business
Bachelor of Science in Finance
Minor in Real Estate
Giovanna Gravina
University of Pennsylvania Class of 2022
College of Arts and Sciences
Degree in the History of Art
Parker Gravina
Wake Forest University Class of 2022
School of Business
Bachelor of Science in Finance
Advisory Board
Rev. Rob Hagan
Rev. Rob Hagan, O.S.A. is in his 17th season at Villanova and is currently a Senior Associate Athletic Director overseeing all aspects of Student-Athlete Welfare, a role which includes oversight of the Sports Medicine and Strength & Conditioning departments. He is also the team chaplain for the football and men's basketball programs. Father Rob first came to Villanova in 2003 as the Assistant Athletics Director for Compliance and was promoted to his current position in July 2004. He was ordained to the priesthood in September 2003.
After graduating from Villanova in 1987 with a Bachelor of Arts degree, Father Rob went on to earn a J.D. from Widener University School of Law in 1990. He then spent seven years as an attorney with Gillin and Associates, where from 1990-97 he served as Criminal Defense Counsel in addition to handling contract negotiations, arbitrations and mediations. He also served as counsel to the Delaware County Solid Waste Authority and the Delaware County Register of Wills. Father Rob is a past member of the Philadelphia Bar Association, the Delaware County Bar Association and the Delaware County Association of Criminal Defense Lawyers.
Father Rob currently presides at Villanova campus masses and assists on weekends at St. Paul's Parish in South Philadelphia.
John Harris
John Richard Harris is an American professional golfer who played on the PGA Tour and The Champions Tour.
He attended the University of Minnesota, where he distinguished himself in both golf and ice hockey. Harris was the second-leading scorer on the Gophers 1974 NCAA national championship team, and then two months later won the individual Big Ten championship in golf.
Harris was Owner and President of an Independent Insurance Agency specializing in risk management and insurance.
He became one of the most dominant players on the amateur circuit in Minnesota. He won the Minnesota State Amateur four times, the Minnesota State Mid-Amateur five times, and the 1993 U.S. Amateur at the age of 41.
In June 2002, Harris began a second professional golf career. His first win came in his fifth Champions Tour season at the 2006 Commerce Bank Championship.
Harris has been married to his wife Jennifer for 44 years. They have two children and six grandchildren.